Your Trusted Partner in GTM and ABM
Extending Your Team, Together
We're not great at everything…
But we're damn awesome at solving complex challenges and revolutionizing revenue impact!
Uniquely designed to solve your toughest challenges and drive success for your marketing and sales teams. We're not an agency; we don't want to be running your programs forever. And, we're better than a consultant in that we have the expertise to identify high-performance solutions, enact them, and then train your teams to run them.
Approach and Methodology
Our approach is to harness the strength of your team, not replace it. Collaborating closely with your senior marketing leaders and key stakeholders, we gain a holistic understanding of your goals, needs, and challenges. Our creative solutions make an impact by delivering personalized messaging, creative content, and engaging experiences that captivate your target accounts.
Our Objective
We empower marketing teams to thrive. Our team of experts provides the strategy and execution tailored to address the unique challenges faced by organizations like yours.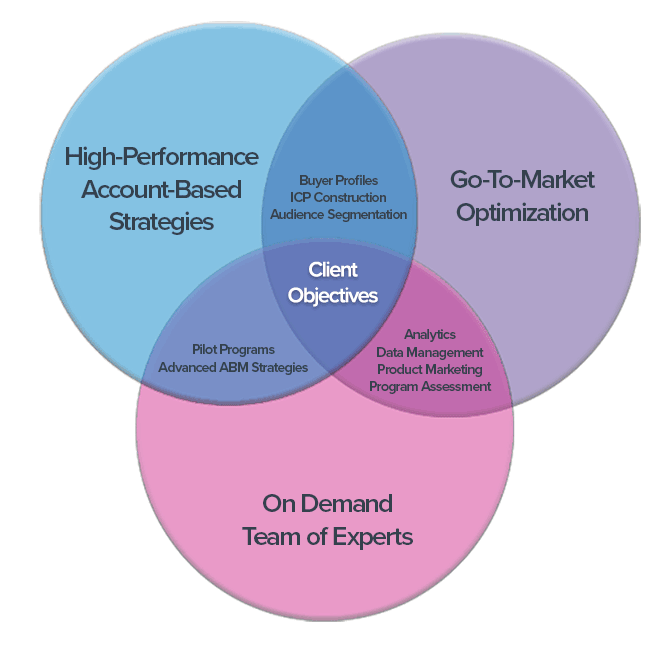 Areas of Specialization
High-Performance Account-Based Marketing:
We get it; much of today's "best practice" sounds more like malpractice.  Break through the noise with our specialized ABM strategies that resonate with your ideal customers. Align your marketing efforts with high-performing ABM programs to drive meaningful engagement, conversion, and revenue growth.
Go-To-Market / Demand Optimization:
The most expensive part of marketing is the demand-gen investments that don't pay off.  From evaluating your tech stack to reverse engineering the outcomes your marketing programs have produced, we optimize your demand generation efforts with our data-driven, omnichannel approach. Avoid costly mistakes and achieve optimal results by strategically allocating your resources and breaking through the noise within your market.
Ideal Customer Profile Construction:
Some prospects hear your value proposition better, want it faster, are willing to pay more for it, and stay longer. Identify your elite group of future customers with our fact-based, data-driven approach. Leverage comprehensive data analysis to target the right accounts at the right time, establishing meaningful relationships early in the buying journey.
Measurement, Analytics, and Data Management:
We believe in the power of data-driven insights to fuel marketing success. Through proper construction, we can help you track and measure the performance of your programs with precision, gaining a comprehensive understanding of the performance of your investments and actionable insights for optimizing your strategies.
Product Marketing:
Effective marketing requires effective market understanding and messaging. Our experts provide indispensable external POV on constructing and aligning key messages across products and between personas, content frameworks, and sales enablement.
AI Adoption and Training:
With the blur of options and the drumbeat of content regarding artificial intelligence, what's your strategy? We've built training, content, and tools to help you operationalize your starting point. We demystify the complexity.
Accelerate Your Marketing Success
Drive Revenue Impact Now!
Our Latest Thought Leadership
Check out great articles on our blog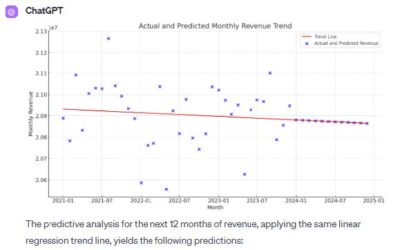 We're writing this in the waning weeks of 2023, and assuredly, thousands of B2B GTM professionals are feeling the cold chill of uncertainty in their planning for 2024.How To Apply Generative AI In Your GTM Planning Powerful Use-Case: A New Era of Data Analysis In B2B...




 Research & Whitepapers From Our Team
Define your high-performance ABM tactics
This whitepaper explores three use cases for improving ABM performance: Starting a new program, restarting a poor-performing program, and accelerating a mature ABM program. Fact-based, research-driven advice, we'll share our best secrets with you.
The ABM Data Management Process
Does your ABM program suffer from its' inability to identify the needs of Target Accounts? Do you think your marketing automation platform is confusing those target accounts because they're embedded in an unknown number of irrelevant nurturing flows? If so, check out the first-ever ABM Data Management Process, a framework for managing your ABM program impact.
Scale Is Not A Substitute For Intimacy
Everyone expects an email, display ad, or call from you. That's why buyers have constructed SPAM filters, ad blockers, and do not call lists. Automating these options to make them cheaper and more prolific misses the point… they're being avoided, ignored, and resented.
This report will help you unpack the rationale for why this connection gap occurs and offers a clear path forward to rise above the noise of distraction and truly engage your target accounts.
Learn how 18% of ABM programs dominate their competitors
Account-Based Marketing is no longer the "checkbox" for success. How you deploy your program leads directly to the results you'll receive.
In this research report we engaged 500 ABM practitioners across five continents. Our goal was to identify high-performance ABM programs and isolate the strategies and tactics that they do differently… so you can benefit directly from their experience.
Recent Articles In Trade Press